Brevard NC - Day Trips - Upstate SC
- - - - - - - - - - - - - - - - - - - - - - - - - - - - - - -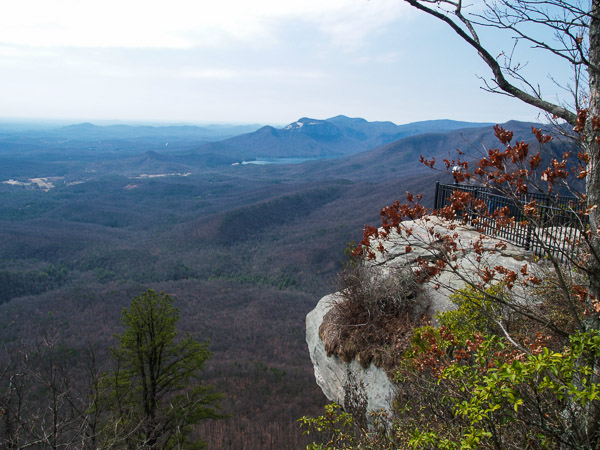 Caesar's Head State Park
8155 Geer Hwy
Cleveland, SC 29635
(864) 836-6115
While traveling down to Greenville, SC, stop and visit Caesar's Head State Park located in Cleveland, SC. Caesar's Head State Park is 24 miles and 40 minutes from Hendersonville.
Caesar's Head State Park is known for a massive isolated granite rock that protrudes over the valley. The granite rock resembles the profile of Julius Caesar, therefore its name. Caesar' Head has many hiking trails. One of the most popular trails at Caesars Head is the two-mile Raven Cliff Falls trail. This hiking trail leads to 420-foot Raven Cliff Falls, where a suspension bridge offers one of the two publicly accessible overlooks to the falls as they plunge deep into the mountain cove below. The park also has many camping grounds. There are breathe taking views of the Blue Ridge Mountains from atop of Caesar's Head.
- - - - - - - - - - - - - - - - - - - - - - - - - - - - - - -
Jones Gap State Park
303 Jones Gap Road
Marietta, SC 29661
(864) 836-3647
Jones Gap State Park is located in a deep mountain cove and is 24 miles and 31 minutes from Hendersonville. There are plenty of trails for hiking and the park covers 11,000 acres of pristine mountain woodlands. One portion of the park contains the Eastern Continental Divide. Therefore rain falling on one side of the divide will eventually flow into the Atlantic Ocean and rain falling on the other side will flow into the Gulf of Mexico.
The hiking trails range from easy to strenuous and link to Caesar's Head State Park.
The Cleveland Fish Hatchery is located in the park and is home to brook trout, rainbow and brown trout. The hatchery is an exhibit so there is no fishing. The trout pond can hold between 60-80 fish and plaques posted around the pond with information on each type of fish.
There are several waterfalls in Jones Gap: Falls Creek Falls, Jones Gap Falls, Rainbow Falls, Dargans Cascades and Silver Steps Falls.
- - - - - - - - - - - - - - - - - - - - - - - - - - - - - - -
Salem, South Carolina
Lake Jocassee covers 7500 acres of water with 75 miles of shoreline.The elevation of the lake is 1100 feet. Lake Jocassee is 51 miles and 2 hours southwest of Hendersonville. There is very little development along the shoreline.
Lake Jocassee is great for boating, skiing and fishing. Pontoon boat tours are offered so take a boat tour and enjoy the scenic beauty.
The lake offers many opportunities for fishermen to catch trout and smallmouth bass.
- - - - - - - - - - - - - - - - - - - - - - - - - - - - - - -
158 Ellison Lane
Pickens, SC 29671
(864) 878-9813

Table Rock State Park is a towering mountain and the park covers 3,000 acres. It is about 41 miles and 50 minutes from Hendersonville. The mountain got its name from a Cherokee legend.The Cherokee Indians believed the Great Spirit used Table Rock as a dining table and the shorter mountain, The Stool, as a seat.
Table Rock State Park offers many things for the entire family. If you are up to a difficult and strenuous day hike, hike to the top of the cliffs of Table Rock Mountain and see the spectacular views. There is also fishing, boating, canoe/kayak rentals, pedal boat rentals, swimming, plus playgrounds, and picnic shelters.
-- For Web Designs --
More websites for "Fun things to do"